Laundry rooms have come up in the world. No longer a dark and dreary corner of the basement, today's spaces are bright and light filled. Counters play a large role in setting the style of the room. Here are our top five choices for a laundry room countertop.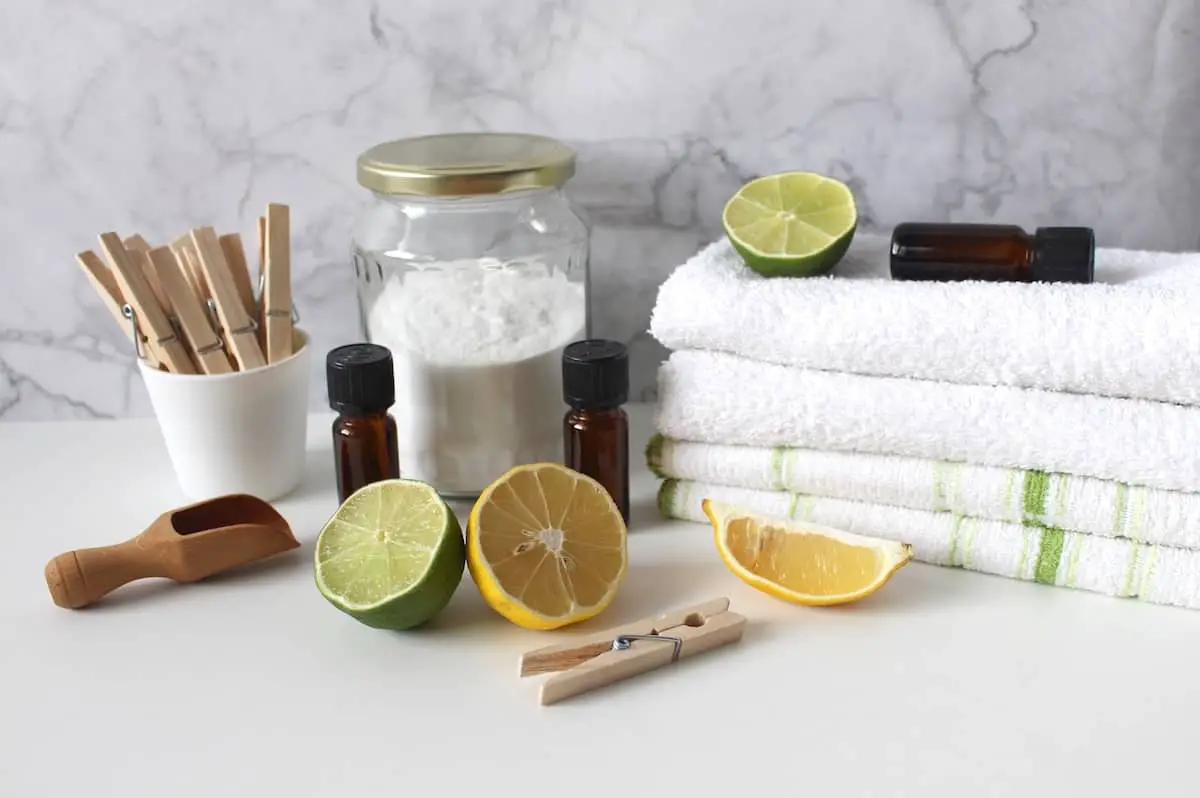 Choosing a Laundry Room Countertop
There are a lot of variables to consider when choosing a countertop, and there is no universal "best choice" for everyone and all cases. Let's explore some of the factors to keep in mind when choosing a laundry room countertop.
Neighborhood
Many countertop decisions will be based on your neighborhood. For example, a plastic laminate laundry room countertop would not even be considered in a luxury or upscale neighborhood. Conversely, a high end granite countertop doesn't make sense in a starter home neighborhood. Make sure you're putting in a countertop material that fits your neighborhood's profile.
Home value
Similarly, you don't want to put in a Calacatta Borghini (about $180 per square foot!) laundry room countertop and when your home's value is more commensurate with a budget priced granite. You're not likely to recoup that money, and home buyers usually aren't willing to pay that much more when you eventually sell.
Laundry Room Location & Design
Where is your laundry room? If it's in a rather "public" place, say, off the kitchen, it would be a good idea to go with a higher quality laundry room countertop, like granite. On the other hand, if it's upstairs and no one ever goes in there, it might make more sense to choose a budget option like laminate.
The next thing to consider is the design of the laundry room. Is it a small space, with just a countertop over the washer and dryer that will be used as a folding surface? Then you might go with a wood counter. Or is it a large room with a laundry sink, dog washing station, lots of cabinets and countertop runs, and even an island? With all that water you'll want to pick something really durable like a quartz.
Ultimately, picking a countertop, no matter what room, is a balancing act of location, material, and budget.
Personal Preference
Finally, what's your personal preference? If you really love marble, and don't mind its patina, then put it in the laundry room. Want something with zero maintenance that you don't have to worry about? Put in laminate or quartz. Hate man made materials? Put in a wood or natural stone countertop.
In the end, it's your home and you can do whatever you want. Just be financially smart about it.
The Best Choices for a Laundry Room Countertop
There are so many options for countertops out there. When you think about all the choices in materials, manufacturers, colors, patterns, finishes, and even edge profiles, making a decision can be overwhelming. Countertops are a big investment, and you don't want to mess it up!
Narrowing the field down to a few materials will help immensely with analysis paralysis. We've picked five laundry room countertop materials that would be at the top of most people's lists. There are other materials that would work great in the laundry room, like soapstone or quartzite, but aren't really a viable choice for most people.
Quartz Countertops
Quartz countertops are an engineered product made from mineral chips and resin. They are incredibly durable and strong, and a great option for a laundry room countertop. Check out our post A Quick Guide to Quartz Countertops for more information.
Pro's
Designs – A wide range of colors and patterns are available.
Finish – Options of polished, matte, and textured.
Durability –  Quartz is actual harder than many granites.
Maintenance – Quartz does not require any sealing, is non-porous, and practically impervious to stains. It's also anti-microbial.
Cons
Cost – Quartz can be expensive, with prices ranging in the $50-$120 per square foot range.
Man made material – For some people, quartz lacks the warmth and realistic movement of a natural stone countertop.
Quartz is not heat resistant, so ironing directly on the laundry room countertop is a no-no, but that's a simple fix with an ironing pad..
Granite Countertops
Granite is an excellent choice for a laundry room countertop. It's beautiful and classic. Forget about the spotty granites of the past. Granite has taken on a cool and sophisticated look, especially with vein cut slabs. There are even granites that look like more expensive counters, such as soapstone.
Granite is wonderfully durable. If it's tough enough to be used as kitchen countertops, then it can certainly handle being a laundry room countertop. Be sure to read our post, A Quick Guide to Granite Countertops for more information.
Pro's
Designs – A wide range of colors and patterns.
Finish – Options of polished, matte, and several different textures.
Durability – Granite is one of the hardest and most durable countertop materials available.
Cost – Granite has a range of prices, depending on the rarity of the stone. There are many budget-friendly options.
Cons
Some people mistakenly feel that granite is out of style or dated. Not true at all! Yes, some of the busy and speckled granites of the '90's and 00's look dated. So do the other Tuscan-inspired "flavors" like Santa Cecilia. But granite itself is not outdated.
Maintenance – While not completely maintenance free, periodic sealing is required for many granite countertops.
Laminate Countertops
Most people are more familiar with this countertop's brand names – Formica or WilsonArt. Laminate is a man made material, consisting of a wood particle substrate with a printed plastic surface laminated to the top. These countertops are usually associated with the home decor trends of the 1970's. Lots of Avocado Green and Harvest Gold.
Forget all that. Laminate has made huge leaps, style-wise. The printing technology has made incredible advances. Counters can look like natural stone, wood planks, solid colors, patterns, and even chalkboards. Now days, it can be hard to tell if a countertop is laminate or another material. Laminate can be a great choice for a laundry room countertop.
Pro's
Designs – Literally hundreds of choices in color and pattern, and even custom designs.
Finish – Laminate counters are available in a wide variety of finishes, including glossy, matte, and numerous textures.
Durability – Laminate is non-porous, so it's won't stain easily. However, it is susceptible to water damage, so care should be taken near sinks.
Maintenance – Zero maintenance. No sealing or special cleaners required.
Cost – Laminate is an extremely budget friendly choice. It can cost as little as $20 per square foot, for a very basic countertop.
Cons
Perception – Laminate is often viewed as low budget, and therefore off the table. In a higher end neighborhood, laminate would be incongruous. But it's a great choice for a starter home or mid-level neighborhood. Why not have the look of a fancy marble at a great price point?
Marble Countertops
White marble countertops are the darlings of Pinterest & Instagram. And rightly so. The natural movement inherent in a natural stone material combined with bright and light color palettes is spot on. Our post, A Quick Guide to Marble Countertops, has lots more information.
Choosing marble for a laundry room countertop often comes down to a personal preference, and how you feel about marble's patina.
Pro's
Designs – There's a reason marble is timeless and classic. Engineered counters just can't compete with marble slabs like Calacatta Gold or White Danby.
Finish – Options of polished, honed, and leathered.
Cost – Marble is available in a fairly wide range of costs; Carrara is considered to be a budget-friendly option. Additionally, in most cases, a laundry room countertop is small, so a slab remnant or a prefabricated countertop can be a very economical choice.
Cons
Appearance – Marble will develop a patina through use. If that patina is undesirable, you will spend a lot of time and energy keeping the patina at bay. Marble may not be the best choice for you. But, if you're ok with patina, then go for it!
Durability – Marble is one of the less durable natural stone countertops. It can be scratched, etched and stained relatively easily. In a laundry room, the biggest threats would come from bleach. liquid laundry detergent, and stain removers. Water from sinks, as well as wet clothes placed on a marble countertop, will also be opportunities for etching.
Maintenance – Marble requires periodic sealing, or it will etch and stain. While not difficult, it is another thing on your "To Do" list.
Wood Countertops
For the most part, Beautiful Countertops Ideas focuses on natural stone countertops and their gorgeous colors and beauty. But then along comes a wood countertop. Oh, mercy! I have to say, wood looks amazing as a laundry room countertop.
Pro's
Design – Wood counters are beautiful and can bring a lot of warmth into the room. They can even have inlaid patterns.
Can be refinished to remove scratches and dents.
DIY- friendly.
Cost – Can be a very economical choice (as low as $12 per square foot).
Cons
Maintenance – Wood countertops will need periodic resealing.
Durability – Small scratches and dings will happen, but that's part of the warmth and patina. However, there are finishes that can make the top practically impervious to water, stains, and heat.
In general, wood and water don't play well together. While finishes can help, using wood as a laundry room countertop might be an uphill battle. However, if the countertop is used simply as a folding surface, then wood is a great choice.
That wraps up our choices for a laundry room countertop. As you can see, there is not a single "perfect" countertop choice. All materials have their pro's and cons. We hope this post was helpful in narrowing down your options.
Check out our free Countertop Costs Calculator to get a ballpark idea of your countertop budget and which materials meet it.
Pin this for later!