Choosing new countertops can be overwhelming. The decisions seem endless. There are at least eight major countertop materials, each with its own pro's and con's. Within each material, there are several finishes and edge profiles to chose, and hundreds of color choices. Finally, each material can come in a range of countertop costs.
It's enough to drive you crazy, and regret ever having considered building a new home or remodeling an existing one.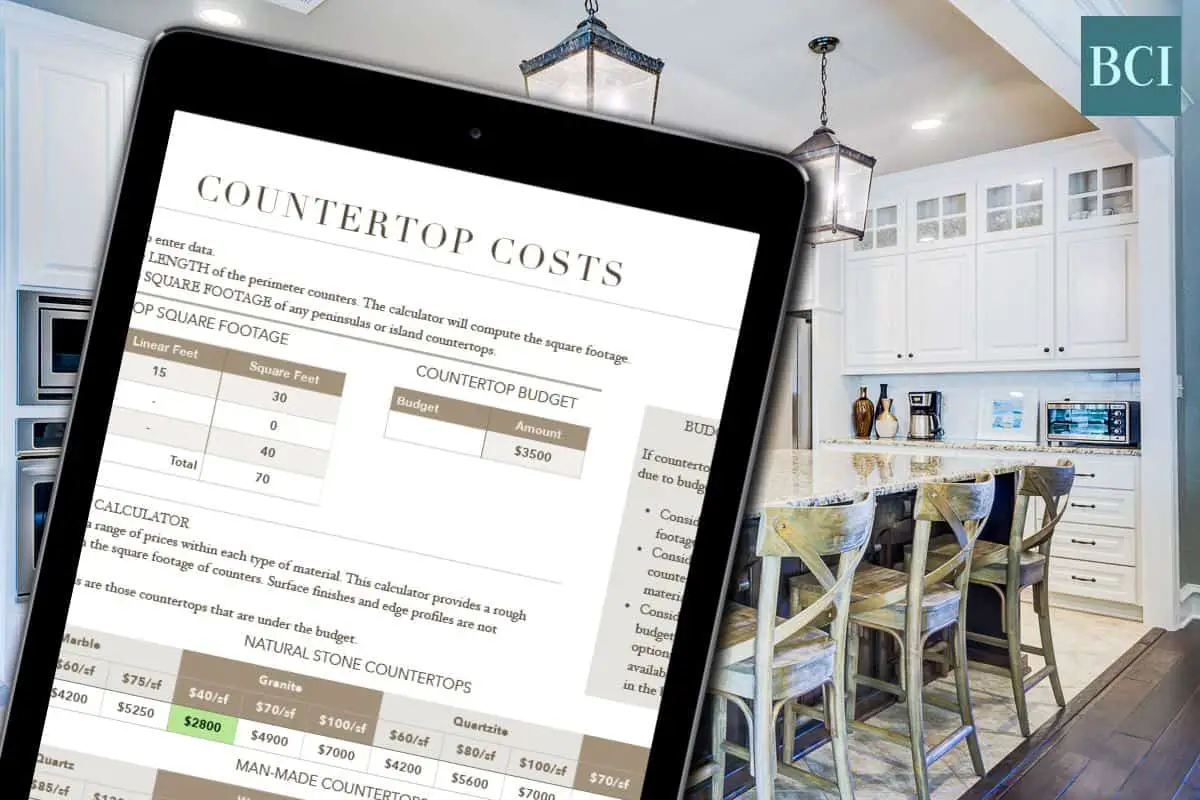 This blog is entirely devoted to helping you get out of the fetal position, learn about countertops, and make educated decisions that (hopefully!) you won't regret.
With that goal in mind, we've created a Countertop Costs Calculator to help narrow your choices based on budget. And, best of all, it's FREE!
Countertop Costs – Materials
Before you jump into using the calculator, become familiar with the various materials. Don't get too swept away with that beautiful slab of quartzite, marble, soapstone, or granite. For each one, be sure to understand the pro's and con's of the material, as well as its maintenance requirements.
For example, granite is always a great choice for the kitchen. Marble, on the other hand, requires periodic sealing and is quite porous and susceptible to etching and staining. So it might not be the best choice. Finally, quartz requires very little upkeep to look brand new, so it's ideal for the kitchen.
Next, honestly consider your lifestyle, family members, and your tolerance for maintenance. How do you and your family cook? Are you messy with splatters everywhere? Do you have young children that will inevitably spill orange juice on the counter? A spouse that never cleans the counters? In this case, some of the less durable counters are probably not a good choice.
Do you prefer a pristine counter or enjoy one with patina? Are you prepared to keep constant vigilance over countertop cleanliness, in order to keep it looking good? Or, are you in the "patina is proof of a life well-lived" camp that can embrace an etched or stained counter? 
Finally, will you be able to commit to regularly sealing the countertops if that is required? Or are you constantly on the go with work, kids' activities, and life in general? Personally, I wanted something that would look great with as little maintenance as possible. I went with quartz countertops, and couldn't be happier with them. 
The first major step in picking a countertop is to choose a material that you can live with. There is no right answer – it all depends on you, your lifestyle, and your expectations.
How do I Use the Countertop Costs Calculator?
The calculator can be used to get a rough idea of the costs of the following countertop materials: Marble, Granite, Quartzite, Soapstone, Quartz, Wood, Plastic Laminate, and Solid Surface.
Along with the wide variety of choices in countertop materials, there is also a wide range of prices. The price of natural stone counters often depends on where the stone is quarried, as well as the rarity of the stone. For example, Carrara marble is widely available. Consequently, it is in the lower price range of stone slabs.
The Countertop Costs Calculator takes these price ranges into account. Each material has three price levels – low, middle, and high. The price levels are ballpark – $40/sf, $60/sf, and $80/sf, for example. They will give you an idea of which price points to begin with. There's no sense in looking at $100/sf material that is out of your budget.
Prices will vary on your location, installer/fabricator, and individual slab selections. But, this will give you an idea of which countertops you can afford.
These ballpark estimates are intended to give you an idea of your options based only on your budget. Surface finishes and edge profiles are not included and will add to the overall cost of the project. Prices will vary, so always comparison shop!
How Does the Countertop Costs Calculator Work?
The Calculator is quite simple. The first step is to determine how much square footage of countertop material is needed. Enter the length of perimeter cabinetry that will have countertops, and the square footage will be provided. Enter the square footage of any peninsulas or islands. The Calculator will total the countertop square footage.
Next, enter your budget. The Calculator will then give a ballpark estimate for the cost of each material for your square footage, at the three price points. Cells that are highlighted in green come in under the budget. 
You now have a rough idea of the countertops that will meet your budget with the square footage you have. For example, you might determine that a mid-range marble is out of your budget, but you can afford a lower priced quartz. 
Finally, it's time to do some countertop shopping! Visit a stone yard or countertop sales location and see what is available. What does a granite in the $40/sf look like? How does that compare to a $50/sf quartz? Is the relatively low maintenance of quartz worth the increased cost? Or does the quartz look fake, and you just NEED to have that Fantasy Brown no matter the cost?
Working with Your Budget & the Countertop Cost Calculator
We've all been there – champagne tastes on a beer budget. It's never more apparent than in home remodeling and construction. 
Here are some options if you find you just can't meet the countertop budget:
Reduce the square footage of countertops. Is that gigantic 8'x15' kitchen island really necessary? Can the kitchen and cabinetry be reconfigured to use less countertop material?
Consider making the kitchen island the star with a high-end countertop, and using a more economical countertop material on the perimeter.
Use a lower cost material, rather than the high end choice to get the same look. Soapstone is at the higher end of materials – can you find a lower cost granite that looks like soapstone?
Ask the stone yard about using excess slabs for smaller projects like a bathroom vanity or closet island. Sometimes these countertops can be quite the bargain.

 

Finally, consider increasing your budget. Increase the budget by 10% and see what is available. What are your options if you increase the budget by 20%? Remember, that the increase will be spread across the life of the kitchen. How much more a year will that cost?(For example, over five years, an additional $1000 to the countertop budget will only be $17 more a month.) Is that extra cost worth it?
Ready to get the calculator? Just subscribe to our mailing list using the box below.
Pin this for later: