Soapstone counters are a beautiful choice for the kitchen and bath. But their price, along with concerns for durability and care, often turn homeowners away. They routinely choose granite countertops instead. But what if they could find a granite that looks like soapstone? Then they could have it all.
Soapstone Countertops
Soapstone can be a wonderful option for the kitchen. Although it is made of talc, the metamorphic process has turned it into a very dense material. The talc content can make the stone feel soapy and somewhat soft. But it isn't.
Soapstone is non-porous, and therefore, anti-microbial. It's actually the only stone that is non-porous. It does not require sealers or maintenance. However, many homeowners periodically apply mineral oil or a dry wax to darken and enhance the color. Soapstone will not stain or etch, and is impervious to heat. This makes it a great choice for families.
While soapstone is beautiful, it does have a few drawbacks. The biggest problem is usually the cost. Soapstone is at the higher end of the countertop costs spectrum, and can fall in the $70-120 per square foot range. It can easily blow the budget. Especially a modest one.
Depending on the mineral content of the particular counter slabs, soapstone can be scratched, dented or chipped. In some cases, the damage can be repaired with sanding. But, there is a definitely a possibility of damage to the counters.
Finally, soapstone slabs are slightly smaller than other countertop materials. This can be problematic when choosing a natural stone kitchen island countertop. An exceptionally large kitchen island will need multiple slabs of soapstone, and will have seams. It's not necessarily a bad thing or an impossible feat, but it is something to keep in mind.
Granite Countertops
In many neighborhoods, granite is the go-to countertop choice. And there are a few good reasons for that.
First of all, granite kitchen countertops are popular because they are extremely durable. It is resistant to heat, scratches, and stains. Granite is an igneous stone with a 20-60% quartz content, and a Mohs Scale of Mineral Hardness of 6. In other words, granite is extremely tough. It can easily take the everyday abuse of the family kitchen.
Secondly, unlike other counter materials, they are relatively low maintenance. Clean up is easy with warm, soapy water. Most importantly, you don't have to worry about etching and staining from food and wine. Or being constantly vigilant about wiping up spills. (Who wants to live like that??) Granite requires periodic sealing, usually once or twice a year. Other than that, granite requires very little attention.
Finally, unlike quartzite countertops, granite can be a fairly economical choice. The wide availability of granite, as well as the various grade levels, can make it a budget friendly choice. It usually falls in the $40-60 per square foot range. However, the more exotic granites can get expensive.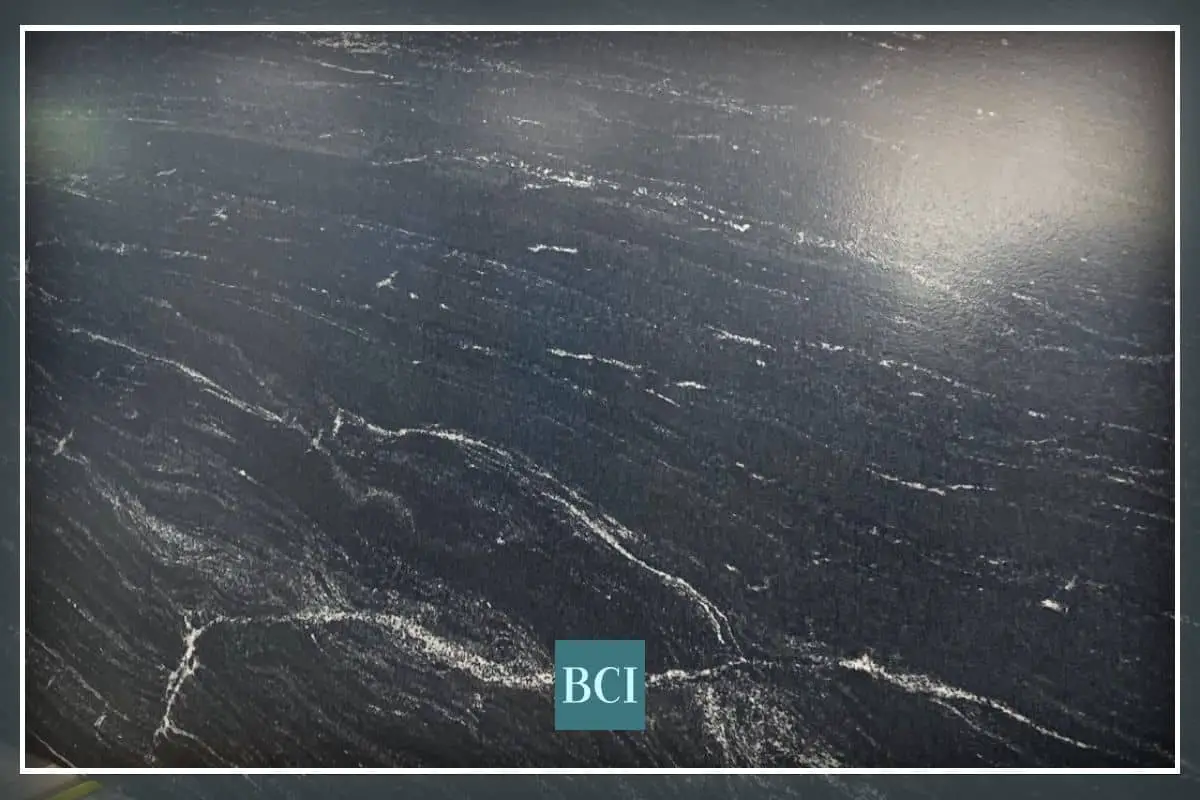 Granite that Looks Like Soapstone
If you're still with me, and looking for a granite countertop that looks like soapstone, here's the payoff. The five granites listed below fit the bill. The look of soapstone, but with the durability of granite.
Many of these black granites are close in appearance to the quintessential soapstone.  The field is a dark gray/charcoal to black, and it has white veining. Similar to an oiled or waxed Noire Soapstone. But, I also have some that have the grey-ish/green look of an un-oiled Fantasy soapstone.
These five countertop choices can give you the beauty of soapstone, but with the benefits of granite. You can have the best of both worlds!
We'd love to hear from you! Do you like a dark countertop like soapstone? Do you prefer one of these materials over another? Leave us a comment!
Be sure to pin this for later: