Did you know that a lot of people search Google for an answer to the question "What is a trivet"? That really surprised me, because trivet seems like a pretty common word. The next thing I knew, I had fallen down the rabbit hole of regional sayings and slang. Oof.
I've always enjoyed learning the different words people use for the same objects, like soda vs. pop, or bag vs. sack. Being a solid Midwesterner, I tend to mix my regional sayings. I keep my pop in a bag, y'all. But, there's usually an occasional "youse guys" or "da Jewel" thrown in for fun.
But, I digress. Since so many people are looking for the answer to "What is a trivet?", I thought I'd write up a quick post about them and how important it is to use one on your countertops.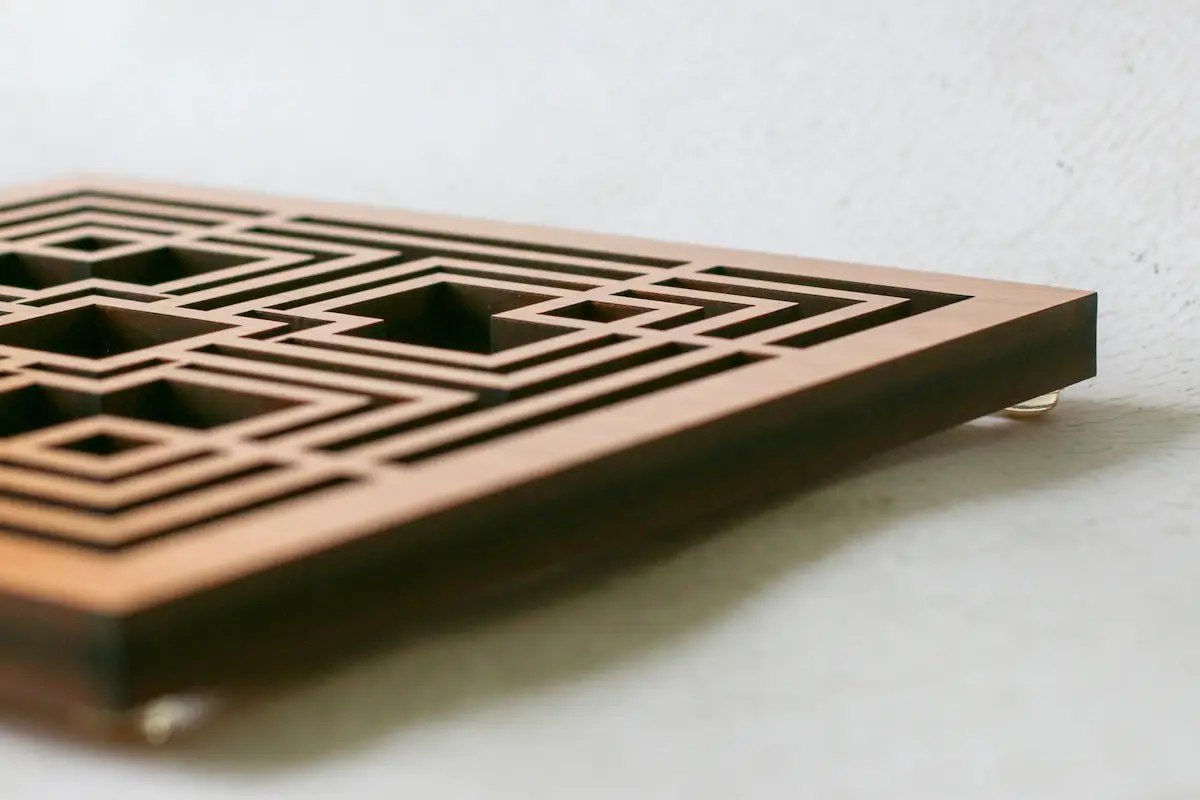 What is a Trivet?
A trivet is a heat resistant surface that is placed between a hot pan and the countertop to protect the countertop from being burned. Traditionally, a trivet was a raised surface with three feet – that's the tri- part. The odd number of feet makes it easier to balance, and prevents the trivet from wobbling.
Almost anything can be used as a trivet. Hot pads and oven mitts are often used underneath hot pans, and perform the same job as a trivet. But they aren't technically a trivet.
Trivets do more than protect counters from burn marks. Placing a hot pan on a cool countertop surface can result in broken baking dishes, or worse, a cracked countertop. Countertop slabs can actually crack due to thermal shock when a hot pan is placed on a cool surface. Using a trivet can reduce the chances of damaging your countertops, so it's a pretty good idea to always use one.
Trivet Materials
Trivets come in a wide variety of materials. They can be made of wood, stone, cork, cast iron, ceramic, or fabric. Silicone trivets are a relatively recent invention, and are a great lightweight alternative to the more traditional versions.
Aren't Countertops Heat Resistant?
The answer depends on the countertop material. Many natural stone countertops are heat resistant, while most engineered countertops are not.
Granite is extremely heat resistant. That's one of the many reasons why granite is a top choice for use in the kitchen, and why so many families choose it for their kitchen countertops. Quartzite is equally heat resistant, and is a stunning option.
Soapstone is another extremely heat resistant choice. It is one of the few countertop materials that will not be damaged by a hot pan. Due to its relative softness, it is also resistant to cracking due to thermal shock.
While marble countertops are fairly heat resistant, placing a hot pan directly on the surface may cause a scorch mark.
Quartz countertops are not heat resistant. The resin in quartz can scorch, and is also susceptible to softening due to heat.  Solid surface countertops are also susceptible to heat damage.
A hot pan will scorch plastic laminate and butcher block countertops, as well.
Where to use a Trivet
In general, you'll want to use a trivet in a convenient location near the stove or oven, so you can easily put hot pans on top of it.
It's also a good idea to place a trivet under electrical countertop appliances that generate a lot of heat, or are used for long periods of time. Appliances like crockpots, electric skillets, and waffle irons, for example.Quartz countertops are especially susceptible to discoloration from heat, so make sure to use a trivet under those heat generating small appliances.
Trivets can also add a nice decorative touch to your kitchen decor. Invest in a pretty trivet and keep it out on the counter all the time. (Speaking of decor, check out our 18 Must-have Accessories for a Cottage Kitchen post to add some real charm to your countertops.)
Now you can confidently answer the question "What is a Trivet?" the next time someone asks you. There's no way they can say YOUR brain rattles around like a BB in a boxcar (or whatever the local slang for a dummy)!
Pin this for later!