I don't know about you, but I'm getting all-white-minimal-kitchen fatigue. Sure, they're beautiful. But I'm ready for some color, and warmth, and a hefty dose of charming accents. I was scrolling Pinterest the other day and fell down the cottage kitchen rabbit hole. Today, I've pulled together a collection of accessories that would look great on your kitchen counters and give all the cottagecore feels.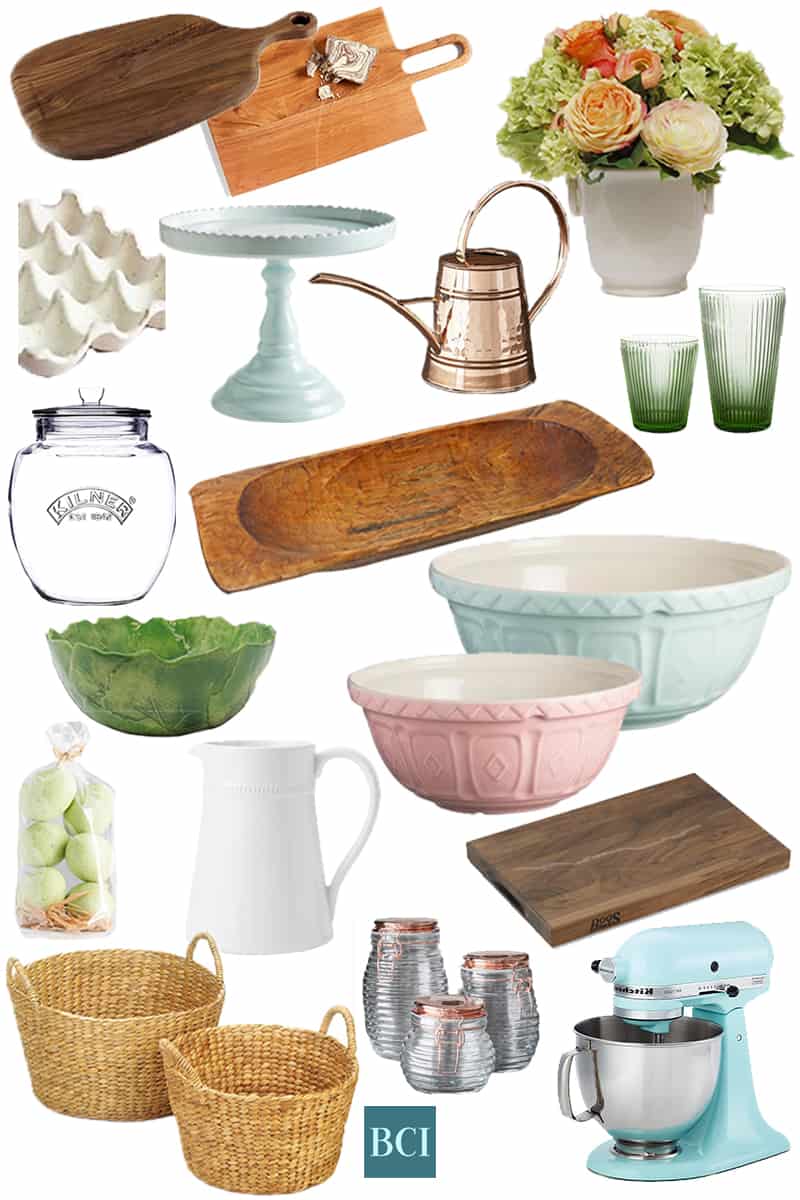 What is a Cottage Kitchen?
There are all kinds of adjectives that can define cottage kitchen style. Charming, comfortable, casual, and romantic are probably the terms that come to mind. A cottage style kitchen is light and airy, with soft colors, like pale pinks, blues, and greens paired with white or cream.
The decor has a "collected" look, with accessories that are curated and gathered over time. Items are mismatched, and often, hand-me-downs. Fabrics are light and wispy, or florals.
A truly vintage cottage kitchen would be filled with antiques and vintage items.  But, that can take a long time, and lots of visits to flea markets and antique stores. Since flea markets, at least in my area, are on hold, I selected new accessories that can be ordered online. They fit the cottage vibe, but are readily accessible.
Best Countertops for a Cottage Kitchen
A successful cottage kitchen design is more than just adding the right accessories. The kitchen is a whole – the permanent parts, as well as the accessories. Cottage kitchen cabinets, wide plank wood flooring, bead board, open shelving, lighting, backsplash, and even the cabinet hardware combine to create the overall aesthetic.
There are many countertop options for a cottage kitchen. Natural stone kitchen countertops are a top choice. Marble, especially the lighter varieties like Calacatta, are perfect. Light colored granites are another great option.
Soapstone countertops, especially the lighter shades and greens, would fit right in. Quartzite countertops are a beautiful choice, as well.
To me, you can't get much more classic than a cottage kitchen island with wood countertop. #dreamy
Finally, quartz countertops are a perennial favorite due to their good looks and low maintenance. There are lots of options that look like marble and be ideal in this setting.
Cottage Kitchen Accessories
Time to get down to the details on the accessories. These will look great on both a kitchen island or perimeter countertops. I hearby bestow permission to actually have things on your countertops!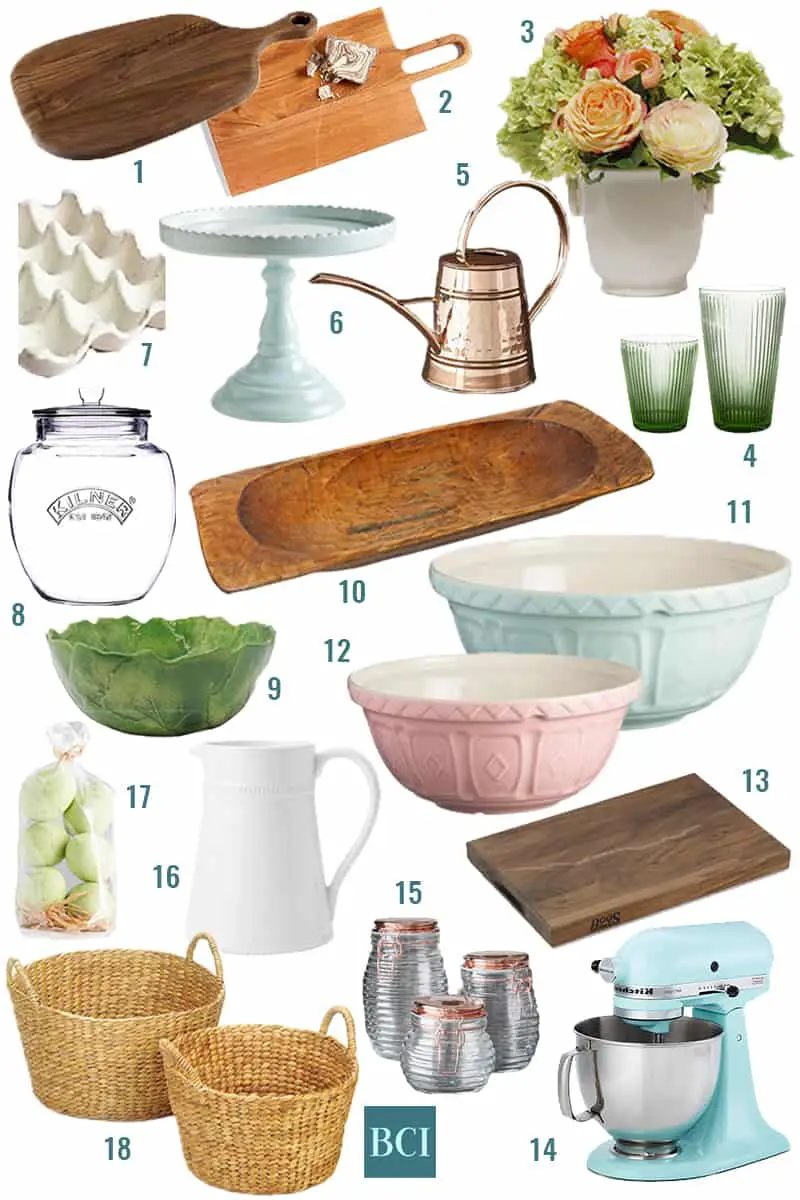 Cutting Boards
Cutting boards look great leaning against the backsplash or behind the cooktop. The Walnut Cheese Board with Handle (#1), Byhring Large Serving Board (#2), and Boos Edge Grain Rectangular Cutting Board (#13) bring a nice warmth to counterbalance all the pastels.
Storage
Incorporate some stylish storage solutions into your design. This Beehive Glass Jar Set (#15) is just right for storing honey. What says cottage more than a container of local honey??
Kilner has been making glass jars and containers since 1842. They are stylish, classic, and quintessentially cottage style. A collection of Kilner Universal Storage Jars (#8) would look great on open shelving.
A cottage style kitchen needs lots of basketry. Bay Isle Home Wicker Baskets (#18) add warmth and texture, and are a nice size for use in the kitchen.
A true cottage kitchen of the past would not have a refrigerator, and eggs would be left out on a counter. Why not fill the Cottage Egg Crate (#7) with some fun Green Ceramic Eggs (#17)?
Bowls
Back when bread was homemade daily, a cottage would have had a giant Dough Bowl (#10) like this one. That would look fab on a kitchen island!
A vintage cottage kitchen brings to mind Cabbageware and Lettuce Leaf dinnerware. The Foglia Stone Serving Bowl (#9) is a great tip of the hat to that tradition.
Mason Cash is another one of those companies that have been around since the 19th century, and would have been found in most cottages. I have a few Mason Cash bowls, and absolutely love them!
Bowls come in a range of sizes and colors; the Mason Cash 11.75″ Mixing Bowl – Powder Blue (#11) and Mason Cash 9.5″ Mixing Bowl – Powder Pink (#12) are shown here.
Serveware
If I were a serious home baker, I'd want to display my creations on this cute Decor Bon Bon Cake Stand (#6). I would put it right in the middle of my kitchen island and show off all those culinary skills. The cake stand does not come with a glass dome, but one is available.
Every cottage needs a white stoneware pitcher. Pottery Barn's Gabriella Pitchers (#16) are quite stylish and charming. They're perfect for orange juice, or holding a bouquet of wildflowers.
Speaking of orange juice, serve it up in these Green Optic Tumblers (short) and tall tumblers (#4). Sunday brunch never looked so good.
Decor
Hydrangeas are the perfect cottage flower, and this silk Hydrangeas in Garden Pot (#3) arrangement would look amazing in the kitchen. Take care of the real plants with this curvaceous Tall Copper Watering Can (#5).
Finally, I'm going to include this KitchenAid Artisan Stand Mixer – Ice Blue (#14) in the decor category. It's so pretty, it should be on display.
I hope this post has given you lots of great cottage kitchen ideas. I know I'm looking at adding a few of these accessories to my kitchen!
Pin this for later!